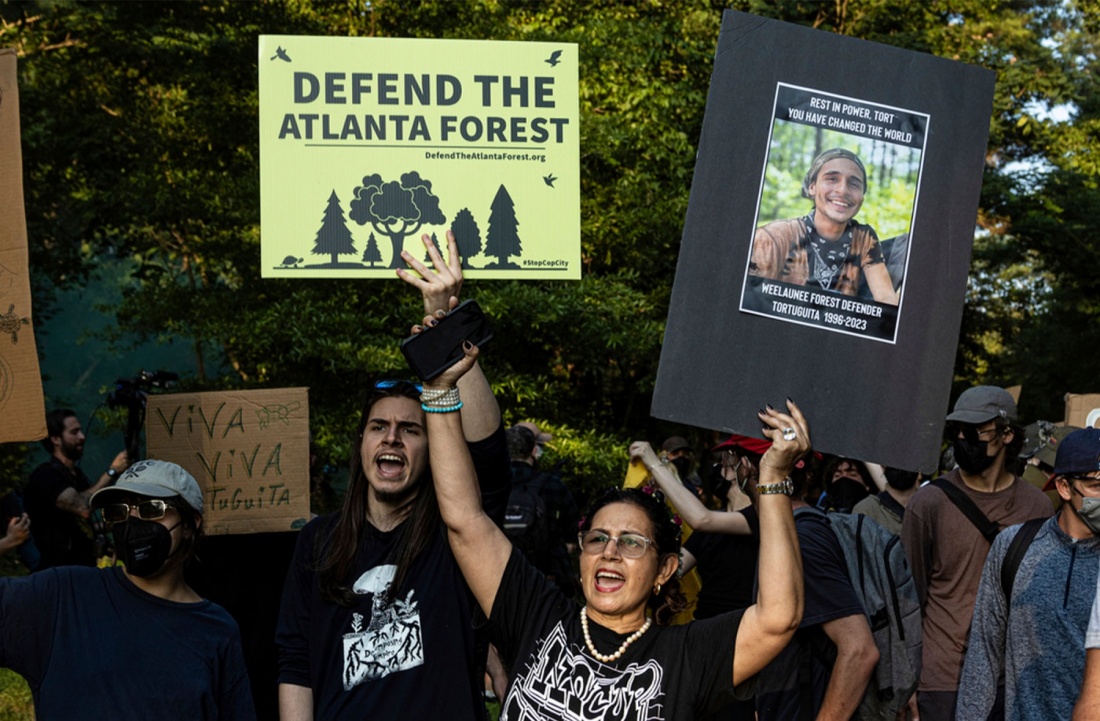 Belkis and Pedro, respectively the mother and brother of slain eco-activist Manuel Teran, carry signs on a march from Atlanta's Gresham Park on June 28, 2023. Photo by Collin Mayfield, SIPA USA. (Sipa via AP Images)
The aftermath of 9/11 witnessed the emergence of new laws and policies designed to police individuals labeled as "terrorists" — including activists involved in constitutionally protected activities such as marches or protests. This report examines mainstream United States media coverage of protests surrounding the construction of the "Atlanta Public Safety Training Center", popularly dubbed 'Cop City', in the Atlanta-Weelaunee Forest, GA. The analysis of media coverage reveals a mixed track record, with some newspapers overwhelmingly citing sources who appeared to justify the terrorism charges, while other coverage raised critical questions.  
"The frames used by various media outlets hold substantial sway over public perceptions of terrorism laws, significantly influencing how these laws are interpreted and implemented," says Deepa Kumar, Professor at Rutgers University and the author of the report. "Even though the 'war on terror' is supposedly over now that the U.S. has withdrawn from Afghanistan, U.S. federal and state governments continue to use and even expand punitive measures targeting those they label as 'terrorists'. The U.S. mainstream media sometimes supports this expansion, and in doing so imperils U.S. democracy. All of this is part of the legacy of the post-9/11 wars."
The report examined stories during three periods when the bulk of the terrorism arrests were made. These include the December 2022 terrorism-related arrests; the January 2023 arrests and police killing of activist Manuel Esteban Paez Terán, also known as Tortuguita; and the March 2023 arrests.
The report found that apart from a handful of notable articles in The Washington Post and the Los Angeles Times that tacitly criticize the wider application of terrorism charges evidenced in Georgia, the majority of the seven media outlets examined have deferred unquestioningly to government authorities in the use of this label.
In any well-functioning democracy, it is vital for the media to ask critical questions, provide balanced information, and play a role in promoting government accountability. In failing to critically question the state of Georgia's use of terrorism laws to charge and arrest Stop Cop City activists, the mainstream U.S. media has often failed to play this necessary role.