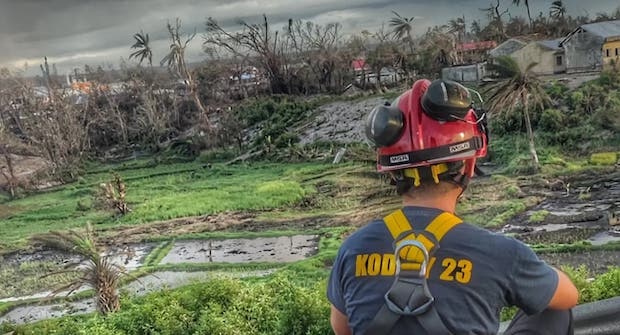 Scope of the project : Climate change comes as a peculiar object for civilian-military humanitarian cooperation. While its impact on societies is already widely documented and broadcast, practical adaptation to some of its most extreme events, mainly environmental disasters, is a challenge for both humanitarian groups and the military. Both timelines and levels of decision making and action are issues that need to be addressed. The timeframe for a military officer in a position is around three years while climate change issues need decades of anticipation and preparation. The empowered levels of decision making are mostly national and international while we already know that resources available at this level for HADR will reach their limits and that local levels need to be trained and empowered to face the extreme climatic events and environmental disasters up to come. 
History and rationale : This project follows the discussions held at the Climate change and coastal hazard working group during the 2022 Civilian-Military Humanitarian Coordination Research Symposium and Workshop. The discussions outlined the increasing demand for both humanitarian and military support in crises fostered by climate change that is bound to push them both to the limits of their operational capacities. In this context, cooperation and coordination to allocate capacities and resources is essential. There is also a need to articulate these limits with local response capacities and help them build up. However, climate change research or coordination discussions are often "overwhelming", in the sense that the topic is so big that efficiently framing the discussion and finding really impactful cooperation areas is difficult.
Therefore it seems that before delving into new research avenues, there is a need for structuring a stronger community of discussion and practice at an international level. 
Objectives : This project aims at deepening the structuring of the community already fostered by the climate change and coastal hazard working group by assessing and mapping existing projects on climate change response by humanitarian groups, civ-mil cooperation research teams and the military. It intends to strengthen existing yet scattered research on the impacts of climate change and proposes to structure a research network on the analysis of civilian-military cooperation in climate change responses, including military interventions, and the securitization of environmental agendas in international organizations. 
It aims at creating a directory of these projects and teams, and at putting them in contact with one another through a series of webinars that will prepare a more global stocktake at the 2023 symposium and open venues for practical at different levels of action and governance (from local to international).