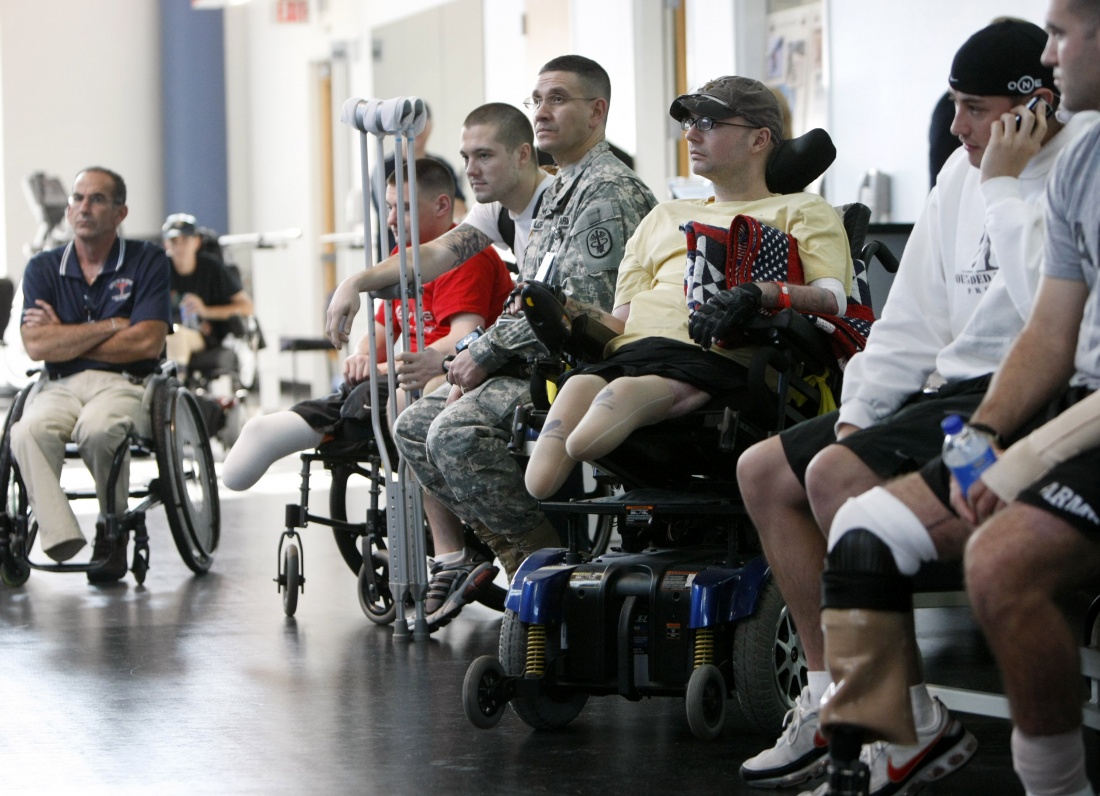 In this Nov. 8, 2007 photo, wounded soldiers involved in physical therapy wait for President Bush to visit the Brooke Army Medical Center in San Antonio. (AP Photo/Gerald Herbert)

As veterans continue to bear huge physical and mental costs from the wars in Afghanistan and Iraq, the costs of caring for post-9/11 war vets will reach between $2.2 and $2.5 trillion by 2050 – most of which has not yet been paid. The U.S. may shortchange its promises to these veterans if the government does not make adequate budgetary commitments.
Long after the post-9/11 wars end, the largest single long-term cost of these wars will be benefits and medical care for the men and women who served in Afghanistan, Iraq, and related theatres since 2001, and their dependents. Expenditures to care for veterans doubled from 2.4 percent of the federal budget in FY 2001 to 4.9 percent in FY 2020, even as the total number of living veterans from all U.S. wars declined from 25.3 million to 18.5 million. The costs associated with caring for post-9/11 veterans will not reach their peak until decades after the conflict, as veterans' needs increase with age.
More than 40 percent of post-9/11 veterans – an extraordinarily high proportion – are entitled to lifetime disability payments, and this number is expected to increase to 54 percent over the next 30 years. By comparison, fewer than 25 percent of veterans from World War II, Korea, Vietnam and the first Gulf War have been certified as having a service-connected disability.
The report recommends the establishment of a Veterans Trust Fund to track and set aside the needed funding for the long-term care of post 9/11 veterans.