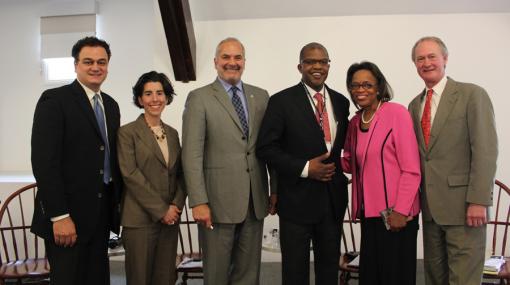 Marion Orr with Annual Leadership Forum ParticipantsBrown University hosted the State Legislative Leadership Foundation (SLLF) Annual Leadership Forum, titled "Restoring the People's Trust in Government" from May 10 to May 12, 2012.  
The Taubman Center for Public Policy and American Institutions was involved in several aspects of the conference. Marion Orr, Director of the Taubman Center, worked with SLLF director Thomas Little to shape the theme for this year's conference. Orr also moderated one of the panel discussions, "Faith in State Government: Little Better than Washington — So What."

One key component of this year's meeting was a case study of Rhode Island's successful passage of comprehensive state pension reform. Taubman Center students Ryan Mulcahey MPP '12, Alexei Pfeffer-Gillett MPP '13 and Keeley Smith MPP '13 interviewed many of the major players in the pension reform effort for the report distributed to conference attendees. A panel featuring key Rhode Island government officials -- State Treasurer Gina Raimondo, Governor Lincoln Chafee, Speaker of the Rhode Island House Gordon Fox and Senate Majority Leader M. Teresa Paiva-Weed -- revealed the intense negotiations, numbers crunching, cooperation and compromise that were essential to crafting and passing the bill.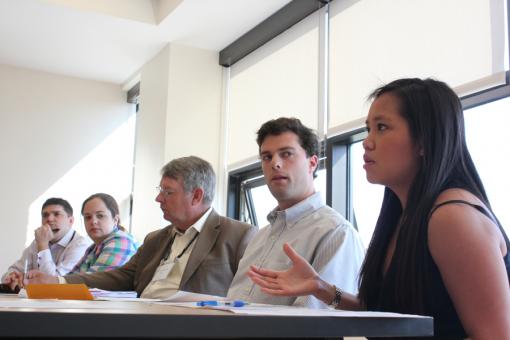 State Legislative Leaders Foundation ForumThe visiting legislators later met in small groups to discuss how to develop strategies and steps to deal with policy problems in their home states. Taubman Center Master of Public Policy and Master of Public Affairs students facilitated these groups, which focused on issues from job creation and health care to school reform.