2023 Interns
---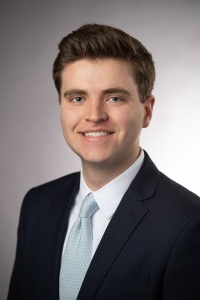 ---
logan tullai
2023 Happy & John Hazen White Sr. Intern
Logan is a rising junior at Brown University concentrating in Political Science and Economics. He is on the National Student Board for Every Vote Counts and is also involved with voting access on campus as the Chair of Advocacy for Brown Votes. At Brown, he is a Research Analyst for the Brown Investment Group, managing part of the University's endowment and sails on the Club Sailing Team. Logan has a background in campaign organizing and was an intern for volunteer recruitment on a U.S. Congressional campaign in 2020. In 2022, Logan served as the Field Director for a State House campaign.

As a John Hazen White Intern, Logan is thrilled to be a Legislative Intern for Senator Sheldon Whitehouse in Washington, D.C. this summer. In this role, he has been tasked by senior staffers to draft questions for the record, compose memos on hearings and briefings, write policy letters responding to organizations and constituents, deliver Capitol tours, and perform other diverse tasks. He is excited to learn more about the many pathways in politics and to see policymaking in action. Logan is very grateful to the Taubman Center for American Politics and Policy for supporting this opportunity this summer!
---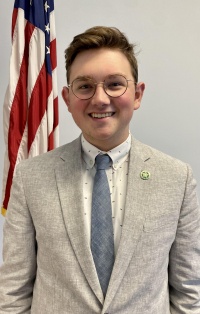 ---
William Loughbridge
2023 Happy & John Hazen White Sr. Intern
William Loughridge is rising Sophomore from Oklahoma City, Oklahoma. He is planning to double concentrate in Religious Studies and IAPA on the Security track. This summer William is working for the staff of the House Committee on Science, Space, and Technology, where his work ranges from drafting policy memos, reviewing hearing charters, and assisting with the day-to-day operations of the committee. He hopes to gain a greater understanding of the inner workings of the legislative process, as well as a window into the careers and stories of people who work on Capitol Hill. 
---
---
Augustus bayard
2023 Happy & John Hazen White Sr. Intern
Augustus Bayard is a rising senior from Anna Maria, Florida, studying economics and political science. Outside of the classroom he works for the Brown Daily Herald, where he is a senior editor on the paper's 133rd Editorial Board. He has also worked as a research assistant in Brown's economics department, at an online news magazine in Washington, D.C., and in the Anna Maria City Hall. After graduation he plans to attend law school and work in government.
This summer, he is interning at the U.S. Department of Justice's Human Rights and Special Prosecutions section, which prosecutes human rights violations and immigration fraud stemming from attempts to hide such crimes. There, he hopes to gain exposure to law by working along practicing lawyers and to learn more about the opportunities available for lawyers in civil service.
---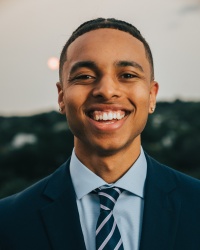 ---
Osiris Russell-delano
2023 Noah Krieger '93 Memorial Intern
Osiris Russell-Delano is a rising junior from Bronx, New York, concentrating in political science. Osiris is passionate about racial and economic justice and hopes to affect change in criminal justice, community development, and education. At Brown, he serves as President of the Black Pre-Law Association, an Elementary After-School Mentor, and a research assistant for Professor Melvin Rogers. In his free time, he loves making music, playing sports, and learning languages. 
This summer, Osiris is interning for Bronx Congressman Ritchie Torres. He hopes to learn about the legislative process, housing policy, and public finance. He is also eager to explore DC and all of its attractions!
---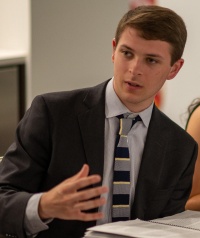 ---
Ethan Minkoff
2023 Noah Krieger '93 Memorial Intern
Ethan Minkoff is rising senior from Sudbury, Massachusetts, double concentrating in International and Public Affairs and Economics. Ethan is also the co-founder and president of Brown's newly established Alexander Hamilton Society chapter, a news writer for the Brown Opinion Project, an active participant in the Watson Institute's practitioner-led study groups, and a teaching assistant in the Economics department. This summer he is working as an associate at Sachem Strategies (for principal Nate Walton, Brown MPA '13), a consulting firm that advises mid-size defense and technology businesses on federal relations and growth strategies.
In his role, Ethan will create strategy memos and reports for clients on federal legislative and government policy issues pertaining to their industries. He will also analyze legislative proposals and think tank reports to assess the defense and technology policy climates and determine their impact on clients. Ethan's time at Sachem will allow him to build upon his studies at Brown to more concretely learn how national security policy is formed, especially the ways through which Congress and the Department of Defense are partnering with the private sector to strengthen the United States' defense industrial base and maintain our technological advantage in such a critical moment in our country's history. Thanks to the Noah Krieger '93 Memorial Internship, he will be living in Washington, D.C., allowing him the opportunity to experience this process firsthand by attending committee hearings, meetings with legislators, think tank panels, and other events. He is looking forward to a productive and engaging experience at Sachem Strategies this summer. 
---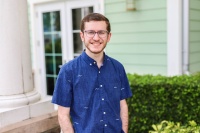 ---
Daniel Poloner
2023 Noah Krieger '93 Memorial Intern
This summer Daniel Poloner was awarded the Noah Krieger '93 Memorial Internship, which has enabled him to pursue an unpaid internship with the Disability Rights Section of the Department of Justice (DOJ). The Disability Rights Section enforces and develops regulations under the Americans with Disabilities Act to ensure that people with disabilities have equal access to the opportunities provided to every other American. Daniel has long been interested in public interest work, which can take many forms. At school he has engaged in direct service through outreach to Providence's homeless population and policy advocacy by testifying in Rhode Island's State House. His internship at DOJ has allowed him to explore another, more systematic approach to public service. So far, his assignments have included investigations into allegations of discrimination and outreach to explain the rights of people with disabilities and prevent/redress violations. Daniel is immensely grateful for the opportunity to assist the Department of Justice in representing the United States and vindicating the rights of Americans with disabilities. 
Over the rest of the summer, Daniel hopes to get exposure to a wide variety of disability legal issues and learn what life as a civil rights lawyer is like. He could not have asked for a better intern cohort or more gracious mentors at the DOJ, and he is excited to continue developing these relationships. Daniel will also continue taking advantage of his time in Washington, DC, visiting cultural events, museums, and other local sites. Some early highlights of his summer have been viewing the Emancipation Proclamation on Juneteenth weekend and meeting an attorney who worked on a case that he recently wrote a paper about.     
---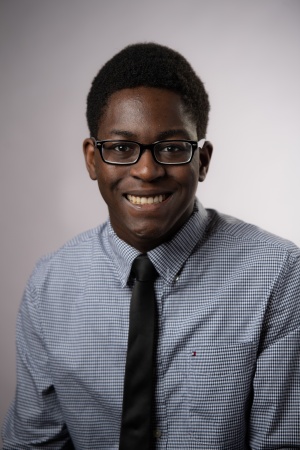 ---
Alexander dufort
2023 Governor Frank Licht '38 Intern
During the Spring 2023 semester, Alexander interned in the Rhode Island Governor's Office in the office of Boards & Commissions. One of his main responsibilities was drafting letters to be sent to newly appointed members of boards, to the Senate and to the Secretary of State. Additionally, he updated the state database on boards and commissions, which contains information on who is serving on what board.
Alexander felt that his internship taught him how to understand the leigslative process of the Rhde Island Senate.. He got to witness appointment confrimations in committees and th overall Senate body.Through performing legal research, Alexander learned to determine the legal requirements for any board, learninghow to search through Rhode island general laws. This internship helped Alexander explore career options that he didn't know were available to him. He has learned that a legal career and public service do not need to be separate careers. 
---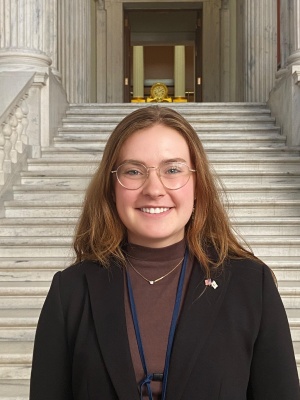 ---
Margaret Lorraine
2023 Governor Frank Licht '38 Intern
This semester, Meg interned at Governor Dan McKee's Policy Office. She wrote policy memos, conducted research, attended meetings from White House briefings to committee hearings, and wrote legislative analysis which made policy recommendations to the Governor. She got hands-on experience with the Rhode Island legislative process and tracked bills from their recommendation by agencies until they crossed the Governor's desk. Meg is leaving the State House with a much greater understanding of the complexities of our legislative process and the tools to navigate public service after she graduates.
---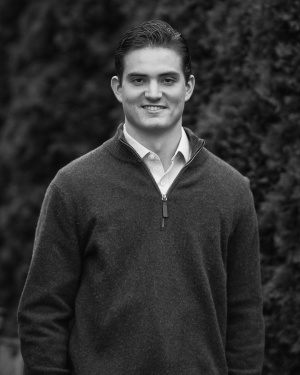 ---
As a Governor Frank Licht '38 Intern during the spring semester, Ben had the opportunity to work and learn at the Rhode Island Office of the Attorney General. His internship primarily consisted of two parts: observing the criminal cases taking place at the Rhode Island Superior Court, and working with the Expungements team back in the office to streamline Rhode Islanders' expungement applications. While observing courtroom proceedings, he was able to connect with several of the state's prosecutors and learn both about their personal backgrounds as lawyers and about the inner workings of building and prosecuting a criminal case. In the office, the lawyers and paralegals on the Expungements team taught him how to navigate the state's criminal database and conduct actual legal work by evaluating applications for expungement. One takeaway that struck Ben both in the courtroom and the office is just how much our legal system is operated and upheld each day by individuals seeking to make constant judgement calls guided by their commitment to fairness, justice, and the law. Overall, he benefited tremendously from seeing the legal system and a law office in action as I consider my career plans after I graduate from Brown. This summer, he'll be interning in a private law office in Boston, and he looks forward to comparing and contrasting my experiences in a private office with my experiences in a public office. Looking back on this past semester, Ben grateful for the opportunity to take part in the Governor Frank Licht '38 Internship program through the Taubman Center, and he's excited to apply the lessons I learned in my career path going forward.