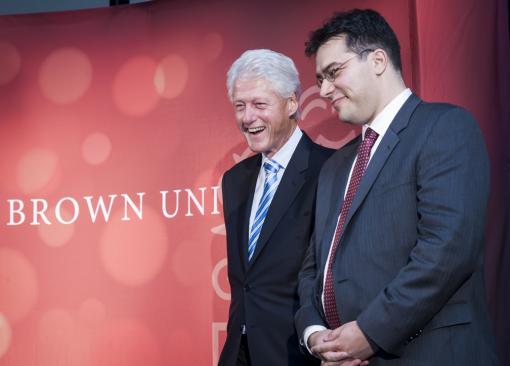 Bill Clinton and Taubman fellow Marc Dunkelman. Photo by Michael Salerno.
President Bill Clinton recently spoke to an audience of more than 200 Brown students, faculty, alumni and friends at a gathering to celebrate the publication of The Vanishing Neighbor: the Transformation of American Community, a book by Taubman Center for Public Policy fellow Marc Dunkelman. The event, which took place at the New York Public Library on September 3 and was hosted by the Taubman Center and the Brown University Club in New York, also featured a presentation by the author. Brown Chancellor Tom Tisch and Taubman Center Director James Morone delivered introductory remarks to an audience that included the founding benefactor of the Taubman Center, businessman A. Alfred Taubman and former mayor of Providence Joseph Paolino, Jr.
Professor Morone began by reflecting on Brown students long and creative tradition of working for a better world. Public Policy is about linking idealism to the skills that can make us better agents for change.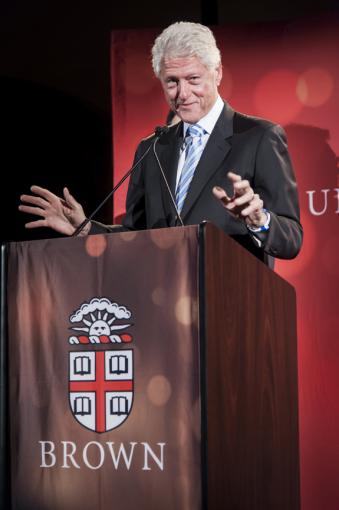 Dunkelman, also a senior fellow at the Bill, Hillary, and Chelsea Clinton Foundation, said his book was inspired his father's question, "Why are things so broken in Washington?" The book's central argument is that technology and the shifting patterns of daily life have led many Americans to focus on their inner circle of friends and loved ones at the expense of "middle-ring relationships" –- connections with neighbors, main street merchants and other casual relationships. These casual relationships, said Dunkelman, are fertile ground for bridging differences that can lead to collaboration across political, ethnic, cultural and racial lines.
The Vanishing Neighbor is an important book because we live in an interdependent world, said President Clinton. "We are in a long struggle to define the terms of our interdependence," he said. At the root of all conflicts, said Clinton, is identity. "People who believe that conflict is more important than cooperation because their differences are more important than what they have in common are the people who are fighting. It's the single great question of the twenty-first century," he said. "We cannot get away from each other, we'd better get to know each other," Clinton said in conclusion.
The speaking program completed, the former president waded through a throng of students and alumni to field questions, shake hands and do what he does best -- connect.