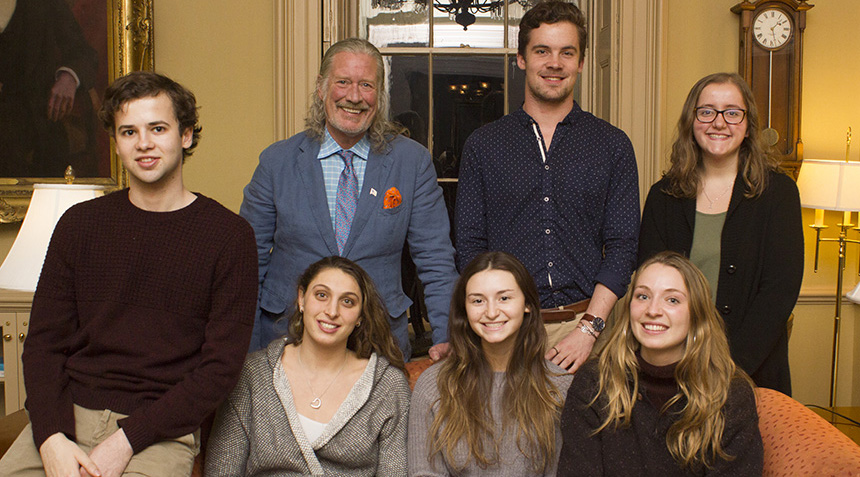 A number of public policy concentrators recently met with John Hazen White, Jr. to discuss their summer internship experiences, made possible  by funding provided by the John Hazen White, Sr. internship program. Here are the 2017 awardees.
Luis Aviles '18
US Department of Justice, Office of International Affairs, Washington, DC
Luis provided research and Spanish translation review for a number of extradition cases for the Department of Justice.
Pieter Brower '18
Senate Committee on Health, Education, Labor and Pensions, Washington, DC
Pieter conducted legislative research and tracked the progress of bills in the House of Representatives and prepared for National Labor Relations Board nominee hearings.
Paul Butler '18
Orleans Public Defends, New Orleans, LA
Paul was an investigative intern, collecting evidence for defense lawyers to use at trial. His work included obtaining surveillance footage from around the city, visiting clients in jail, listening to recorded calls, and attending court proceedings.
Kendall Crawford '19
U.S. House of Representatives, Washington, DC
Kendall was a congressional intern for the Honorable Diana DeGette in Washington, D.C.
Eve Grassfield '19
Red Hook Community Justice Center, New York, NY
Eve worked on a number of outreach and research projects for this multi-jurisdictional community court, which seeks innovative solutions to neighborhood problems in southwest Brooklyn.
Hannah Guevara '20
Knowledge Is Power Program (KIPP), Los Angeles, CA
Hannah created a K-12 family engagement curriculum to increase KIPP parent knowledge on subjects including financial literacy, supporting student career interests, and researching colleges.
Abigale Sanft '18
Dana-Farber Cancer Institute, Boston, MA
As an intern with the Chronic Lymphocytic Leukemia Center, Abigale wrote and submitted a National Insitutes of Health-style grant proposal, analyzed patient characteristics, and produced cohorts for further study.
Evelyn Santos '19
Rhode Island Commission for Human Rights, Providence, RI
Evelyn assisted efforts to combat housing and employment discrimination in Rhode Island as defined by state and federal laws. Her work involved drafting case reports, requests for information, subpoenas, and appeals.