On May 3, 2012, public policy undergraduates, faculty and staff gathered to celebrate the achievements of eight outstanding undergraduates.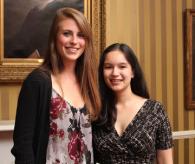 Julia Kantor '12 and Elizabeth Duthinh '12, Senior Award WinnersJulia Kantor -- Krieger Prize for Academic Excellence
In addition to writing an honors thesis, Kantor is graduating Phi Beta Kappa. Kantor received a Happy and John Hazen White, Sr. Internship grant to work at the Center for American Progress in Washington, DC in 2011. She was also awarded a Brown Undergraduate Teaching and Research Award (UTRA) to work at the University's Social Cognitive Science Research Center. Kantor was a copy chief for the Brown Daily Herald's arts and culture magazine, Post.
Elizabeth Duthinh -- Frederick Lippitt Prize for Outstanding Public Service
Duthinh received a Happy and John Hazen White, Sr. Internship and a Gay and Lesbian Leadership Institute's Victory Congressional Internship to work in Rep. David Cicilline's DC office during the summer of 2011. She continued work in Rep. Cicilline's Pawtucket Office in Fall 2011. Duthinh also interned with Pride at Work (AFL-CIO) with a Hanoian Labor Relations grant from Brown's CareerLAB and at the Education Voters Institute through the Center for Progressive Leadership New Leaders Program.
At Brown, Duthinh taught ESL through Swearer's MET ESL program. She also helped set up a partnership between Brown College Access Scholars and PrYSM (Providence Youth Student Movement), the Southeast Asian youth organization in Providence. She was also co-chair of GenderAction, the Queer Alliance's transgender advocacy subgroup, and received a LGBTQ Leadership Award from Brown for making significant gains for transgender inclusion at Brown. Duthinh is on the National Advisory Council for the Gay, Lesbian and Straight Education Network, one of the largest national LGBT .


Happy and John Hazen White, Sr. Internships
These internships provide funding for public policy undergraduates to gain experience in the public policy arena before graduating. Congratulations to this year's awardees:
Kimberly Fayette '14
Rhode Island for Community and Justice, Juvenile Justice DMC project
Caroline Kelley '13          
Institute for Social and Economics Research and Policy at Columbia University interning for a professor in the Quantitative Methods in the Social Sciences Program
Esther Kim '13
Rhode Island General Assembly, House Policy Office
Michael Robinson '14
City of Wildwood, New Jersey
Amy Senia, '14     
California Los Angeles County District Attorney, Central Complaint
Jesse Shapiro '13
Research assistant for Professor Ross Cheit