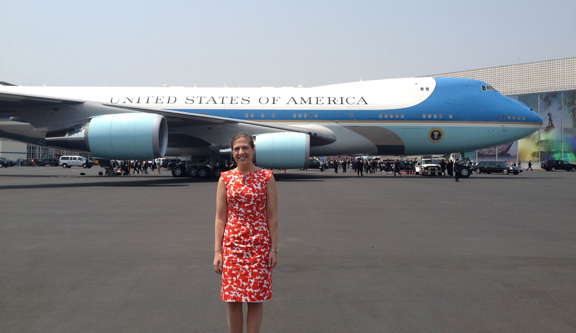 Jennifer Paolino with Air Force One in Mexico City, May 2013
As a protocol officer for the U.S. Department of State, Taubman Center alumna Jennifer Paolino researches and procures official gifts given to foreign government officials on behalf of the President, Vice President, Secretary of State and their spouses. Here she shares what it's like to travel abroad with the President and the art of gift giving in the diplomatic realm.
Where have you been with the President?  I've traveled on three official Presidential trips abroad, which included stops in Mexico, Costa Rica, Cambodia, Thailand, and Burma. President Obama is the first American president to travel to Burma. It was an unbelievable experience landing at the Yangon International Airport in Rangoon. Though we were only in the country for about six hours, I was struck by the tens of thousands of people, including children, lining the streets and waving American and Burmese flags.
How do gift-giving and public policy connect?  Part of our gift selection process involves working with the National Security Council and other colleagues at the White House to ensure that our gifts underscore the message of the meeting. On occasion, we are asked to research gifts that highlight key themes and principles, such as freedom, democracy, or peace. We work closely with the offices of the President, Vice President, and Secretary of State to ensure that our leaders are proud of the gifts that they will give on behalf of our country. Occasionally, leaders will have their own idea or a theme in mind. 
Do you have a stock of good gifts on hand? We have some gifts that our leaders give out regularly.  However, even those gifts are completely customized, such as magnolia wood cufflinks that are made from historic wood from a "Jackson Magnolia" tree that once stood on the South Lawn of the White House.
How would you define the perfect gift?  I would define the "perfect gift" to be one that is personal and meaningful to both the gift-giver, the gift recipient, and is fitting of the occasion.
How many people in the protocol office deal with gift giving and gift receiving?  There is a team of four staffers in the gift division of the Office of the Chief of Protocol.
What's you biggest accomplishment as a protocol officer?  I've never had a major issue with a gift given during my tenure. However, I'm probably jinxing myself by saying so!
Jennifer Paolino graduated from Brown with a BA in Public Policy in 2006 and completed her Master of Public Affairs degree at Brown in 2007. She has been a protocol officer in the U.S. Department of State for more than two years.