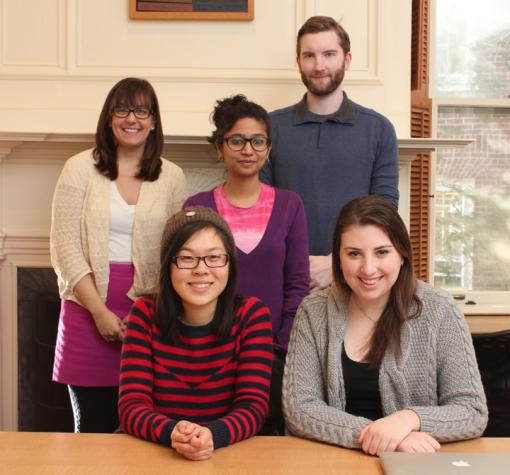 Taubman Center Policy Solutions Challenge team
Taubman Center master's students Matthew McCabe MPP '14, Kelsey Sherman MPP '14, Amber Ma MPA '14, Gayatri Sahgal MPP '14, and Dana Schwartz PPAI '15, have won the mid-Atlantic regionals of Policy Solutions Challenge USA, a competition that encourages public policy students to develop innovative solutions to U.S. policy problems. The topic for this year's competition is combatting childhood obesity. The Taubman team will compete in the finals in Washington, D.C. on March 22 and 23, facing off against teams from seven other policy schools. 
The competition took place at the University of Delaware in Newark, Delaware and was judged by leading healthcare and policy professionals based in Delaware. Brown's students competed against students from the University of Delaware, George Mason University, and second-place American University, whose team will also advance to the finals.
The judges praised the Taubman Center's presentation team — including McCabe, Sherman and Ma — for its professional policy brief, which they said included concise analysis and highly feasible policy recommendations.  Taubman team leader McCabe says they will prepare for the D.C. finals by incorporating the judges' advice to strengthen the quantitative portion of their presentation, including more cost-benefit analysis.