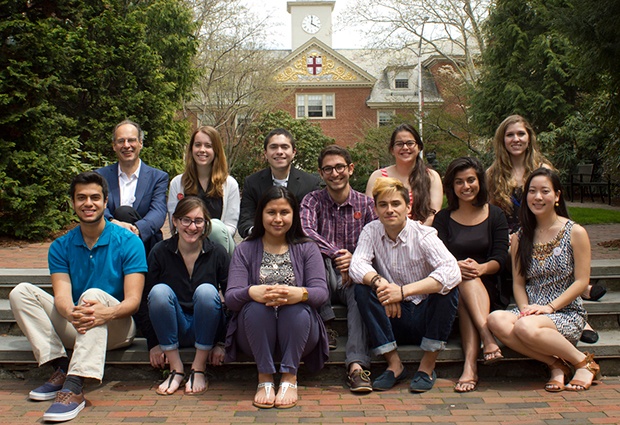 2015 John Hazen White, Sr. Interns 1st row: Hans Britsch, Kim Sarnoff, Emmy Cantos, Samuel Diego Arene-Morley, Neha Goyal, Erika Byun. 2nd row: James Morone, Carly Armstrong, Sam Rubinstein, Ben Gootnick-Miller, Lainie Rowland, Caroline Kelly.
The new Noah Krieger Internship Award provides funding for a policy student who is particularly interested in public service to pursue an unpaid summer internship. This year's awardee, Taylor Ross '17 (above, with Taubman Center Director James Morone), is in Washington, DC this summer working at the U.S. Department of Education in the office of academic improvement. She will be working within the High School Group on an initiative to grant AP test fee waivers to disadvantaged students.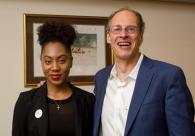 The Happy and John Hazen White, Sr. internship program provides a stipend to public policy undergraduates to pursue an unpaid summer internship with a public, private sector, or nonprofit organization involved in the formulation, implementation, or evaluation of public policy. This year, a record number of concentrators – thirteen – have been awarded funding. Here are this year's awardees:
Diego Arene-Morley '16 • Protect Families First, Providence, Rhode Island
Working on: Researching criminal justice reform legislation in other states and countries that could serve as a model for Rhode Island.
Carly Armstrong '15.5 • California Department of Education. Sacramento, California
Working on: Reviewing legislation and conducting research related to education policies for English language learners for the department's language policy office.
Hans Britsch • Department of Justice Civil Rights Division, Washington, DC
Working on: Title VI and Title IX compliance for the Civil Rights Division in the Coordination and Compliance Section t.
Erika Byun '17 • House of Representatives Committee on Education and the Workforce, Washington, DC
Working on: legislative research for the reauthorization of the Elementary and Secondary Education Act, and on labor policy.
Emmy Cantos '17 • The Committee for Hispanic Children and Families, New York City
Working on: Education and urban policies affecting the Latino communities in New York City.
Solomon Goldstein-Rose '16 • Energize RI, Providence, Rhode Island
Working on: Leading a team of interns to build a coalition of businesses, legislators, and community members to support legislative action for pricing carbon in Rhode Island.
Neharika Goyal '16 • Rhode Island Family Court - Juvenile Services, Providence, Rhode Island
Working on: Evaluating juveniles referred to family court.
Caroline Kelly '17 • The Hill magazine, Washington, DC
Working on: Researching Congressional activities for stories published by The Hill.
Kristine Mar '18 • Office of Senator Ben Cardin, Washington DC
Working on: Policy issues and constituent services, with a focus on environmental policy work.
Benjamin Miller-Gootnick '18 • White House Office of Legislative Affairs, Washington, DC
Working on: Research on legislation and floor activity, staffing legislative events, and serving as an initial point of contact for members of Congress.
Lainie Rowland '17 • Misfit Economy and League of Intrapreneurs, New York City
Working on: Developing a diverse group of global stakeholders committed to pursuing social impact from within the private sector.
Samuel Rubinstein '17 • Center for American Progress, Washington, DC
Working on: Research for the economic policy team.
Kimberley Sarnoff '16 • Rhode Island Department of Health, Office of HIV, STDs, Viral Hepatitis, and TB
Working on: HIV prevention cost-effectiveness research with Professor Omar Galarraga.
---
The Noah Krieger Fund was established by his family in 1995 to honor the memory of Noah Krieger '93. The Happy and John Hazen White Sr. endowment honors the business leadership and philanthropy of the late John Hazen White, Sr. and his wife, Mary (Happy) Tefft White, who were lifelong Rhode Islanders.