2018 John Hazen White Interns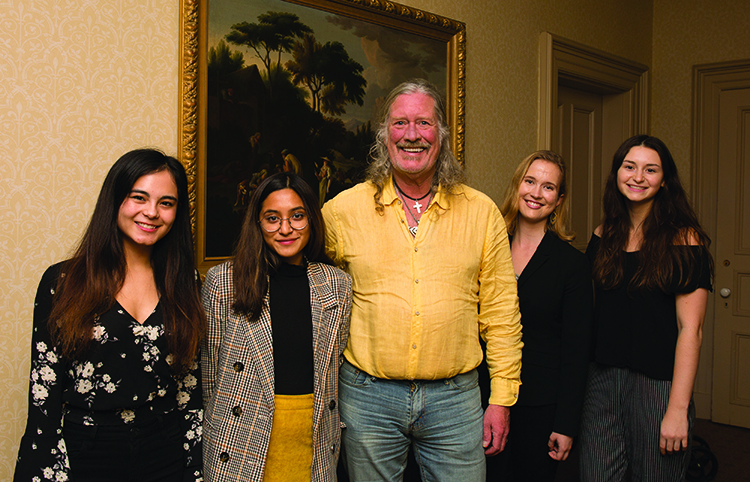 (From left to right: Emily Rehmet, Leslie Benevidas, John Hazen White Jr., Laura Henny, Hannah Guevara)
These students were awarded the John Hazen White Internship, which provides up to eight students receive $4,000 for an eight-week summer internship. To learn more about applying, click here.
---
Hannah Guevara '20 - Children Now; Los Angeles, CA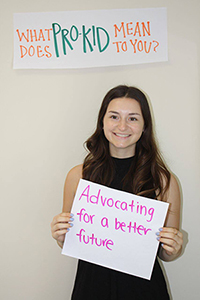 I worked as an early childhood policy intern at Children Now in Los Angeles. I compiled research and wrote case studies focused on effective early childhood investments throughout school districts in California. Specifically, I focused on the need for increased investments in pregnant/parenting teen programs, resources for dual language learners, and family resource centers.
The most rewarding aspect of this internship is the fact that my case studies will soon be posted on Children Now's website and sent to elected officials to show them of the importance of investing in teen parenting programs, dual language learning programs, and family resource centers.
This ground level policy experience really gave me critical insight into the chain of public policy and Children Now showed me how advocacy organizations navigate between the worlds of lobbying, foundations, elected officials, non-profits, and the government. Because of this, I learned how much collaboration within policy spaces is critical to ensure you are providing the most sensible and correctly framed information.
One of the most challenging parts of the internship was understanding the incredibly high ROI of early childhood programs but seeing very low investment. Even though investing in early childhood programs has proven to be one of the most effective ways to decrease crime, increase educational attainment as well as long-term employment and health, many school districts spend much more focus and investment on the K-12 system.
---
Asher Lehrer-Small '20 - Christine Hallquist's campaign for Governor of Vermont Burlington, Vermont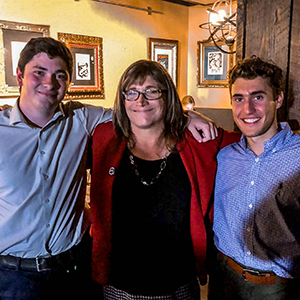 I joined a small team and thus contributed to many different parts of the Christine Hallquist's campaign for Governor of Vermont. The projects that I worked on included building a system for grassroots engagement through Vermont's Front Porch Forum network, formulating the "Government Accountability, Accessibility, and Inclusion" portion of Christine's platform, envisioning and executing the field organizing efforts before the primary election, and regularly updating and building new pages of the campaign website. Now I am continuing my work on the campaign and am managing a team of Policy Specialist Interns.
The most rewarding aspect of the internship was being able to join a team that highly valued my ideas and feedback. From my first day, Christine told me that we need the input of youth on the campaign, because the campaign wanted to be sure to engage the younger generation. That led to my creating with Christine a series of candid videos featuring short interview clips of Christine, as well as helping her develop a portion of her platform devoted to Government Accessibility and Inclusion.
Christine comes from a background as the Chief Executive of Vermont's largest electric utility, and she brought the company forward by sitting down one-on-one with every single employee, every year to hear their feedback. After learning about this ethos from Christine, and after seeing it first-hand on the campaign team, I suggested that she incorporate a version into her platform as Governor, and offered to take a stab at writing that policy. She agreed and liked what I created! In this way, I also learned that working on a team, if I listen well and put my ideas out there, I can have a meaningful impact.
---
Emily Rehmet '20 - Center for Science and Law in Houston, TX and Diamond Research Consultants in Hartford, CT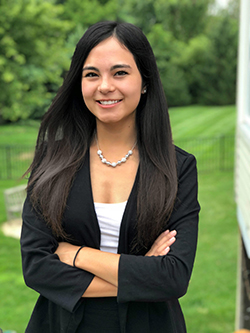 I worked at Diamond Research Consulting in Hartford, CT and remotely for the Center for Science and Law in Houston, TX. The Center for Science and Law is a policy think tank that harnesses neuroscience, data science, and legal research to advance the criminal justice system.  During my time working for this think tank, I co-wrote a National Institute of Justice grant on combating violence against women. Diamond Research Consulting provides insightful and actionable data for social sector organizations and leaders to achieve and demonstrate meaningful social impact. As a public policy summer intern, I wrote a policy brief "The Effects of Trauma on the Brain and the Body's Autonomic Nervous System and Its Policy Implications for Criminal Rehabilitation" that made the case for reforming the criminal justice system from a neuroscience-based perspective.
While there were many rewarding aspects of my internship experiences, one aspect I thought was particularly fulfilling was seeing my writing be published to a larger audience. At Brown, our writing usually goes without publication, so it was rewarding to see my work make effect in the real world. Furthermore, I really enjoyed collaborating with experts in the policy realm. Talking to them about their path to their current career was helpful in guiding my own career aspirations.
When I was originally looking for a summer internship, I wanted to explore the intersection of my two concentrations (public policy and cognitive neuroscience) in the real world. With the John Hazen White Internship Award, I was able to combine these two interests at top choice organizations. At the Center for Science and Law, I was able to see how neuroscience can be applied to improve the criminal justice system, and at Diamond Research Consulting I explored the effects of adolescent trauma on individuals in the criminal justice system. Overall, this work enabled me to examine how intersecting disciplines combine to guide the formation, implementation, and evaluation of public policies and social problems. As an aspiring lawyer, these internships gave me a strong foundation for the realities of our criminal justice system.
---
Laura Henny '19 - International Criminal Court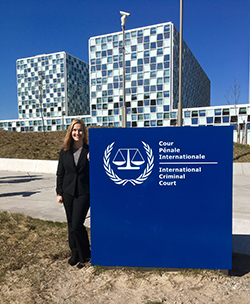 I was given the opportunity to work with many different departments within the Trust Fund for Victims (TFV). For the Trust Fund's legal department, I undertook research projects and wrote legal memos and desk reviews containing my findings. In the realm of communications, I drafted press releases and calls for donations directed at the nations party to the Rome Statute, which is the founding document of the ICC. For the finance department, I assisted with drafting and editing the TFV's 2018-2019 budget narrative for presentation to the ICC Committee on Budget and Finance as well as editing the executive summary for presentation to the Assembly of States Parties. Miscellaneous duties included briefing staff on relevant issues, helping with logistics and planning for high-level meetings, and compiling data.
This internship has been one of the most formative experiences of my life up to this point. Academically, I have had the chance to apply knowledge I had previously only been exposed to in the classroom. Professionally, being in the ICC environment provided me with extensive exposure to the highest level of international criminal law. The varied nature of my work meant that I was able to interact with many different departments and subject matter, which has in turn allowed me to more clearly identity upcoming goals for my career, both immediately post-Brown and farther into the future. Only through hands-on experience can such realizations be achieved, and I am extremely grateful to have had this opportunity.
On a personal level, I was able to interact with colleagues from all over the globe; as an example, the 12 professionals working in the headquarters of the TFV during my time there represented 11 different nationalities. This resulted in a potential for dialogue and cultural exchange that is usually  impossible to achieve, and these conversations and dialogues were easily some of the highlights of the internship experience for me.
---
Leslie Benavides '20 - Stop US Arms to Mexico Project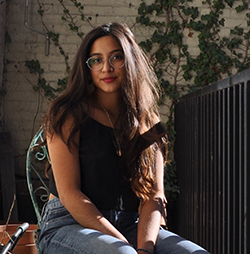 This summer, I researched homicides per 15 days in Mexico and the firearm used in those homicides. Many homicides are done using AR-15s or AK-47s, and many of these firearms are traded into Mexico from the United States-- both legally and illegally.
My summer experience has taught me that policy needs feedback. It is important that people are often researching the effects of policy-- applied policy research can do this by examining the social and economic effects on people, institutions, and countries. In order for policy to be restorative and helpful, it needs feedback from the very people it is affecting.
I have deepened my understanding surrounding the effect of policy implementation. Policies between the United States and other countries, in this case Mexico, can be the cause of even more policy issues. A policy between the U.S. and Mexico can affect, and hurt, many many more countries. After events like Parkland, the U.S. has began conversing about gun-violence. However, we often leave out the ways in which U.S. policies affect and perpetuate gun violence internationally.
---
Virginia Schilder '20 - The Washington, D.C. office of Congressman James Langevin (D-RI)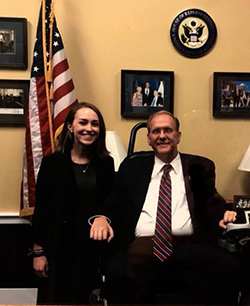 I conducted research in a variety of policy areas on existing legislation, funding levels for various federal programs, and how policies are being implemented or how appropriations are being used by executive agencies. I drafted speeches and remarks for the Congressman, as well as oversight letters for various executive agencies. I worked on a variety of research projects, including research on child welfare and relational permanence efforts, the inclusion of individuals with disabilities in FEMA disaster preparedness plans, and multiple environmental issues, such as living shorelines as a coastal management technique and the proposed ANWR drilling.
The most rewarding aspect of this internship was the freedom afforded to me by my office to attend multiple congressional briefings on policy issues that interested me. I was then able to follow up those briefings up with research on the legislative issue, and then compile my notes and research into memos that were submitted to Legislative Assistants in the office. I was able to dive into several policy areas that interest me, and I felt like the research I did was a meaningful contribution to the office's work in policy areas that I care about.
This internship allowed me to gain a robust, nuanced understanding of the legislative process. I was able to participate in and directly witness the conversations surrounding policy issues, how members of Congress are informed about issues, how legislation is created, and how relationships are critical to the policymaking process. The most valuable take-away from this internship was that I was able to understand the importance of collaborative partnerships between advocacy organizations, the private sector, legislative staff, and Congressional members in effective policymaking.
---
Sabrina Whitfill '19 - National Council of Asian Pacific Americans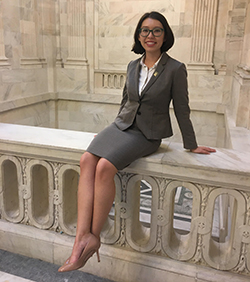 My main project was working on a social media toolkit showcasing AAPI support for affirmative action.
I think the most important aspect of this internship was the opportunity to meet so many amazing activists and leaders working to promote the interests of AAPI communities across the country. I had the chance to sit in on meetings where we would discuss courses of action as events were happening. Instead of just reading the news, it almost felt like we were living it. We were out on the steps of the Supreme Court when the news about the Muslim Ban broke and in Lafayette Park for the Families Belong Together Rally. I think that being at NCAPA really highlighted for me that the work doesn't end just because you've clocked out for the day. Advocacy is a constant necessity, and the work that the coalition members do is really changing the world for our communities and the ones we stand in solidarity with.
This summer made me even more invested in working in Asian American political spaces.  Seeing everyone coming together for such a wide array of issues was really inspiring for me. I finally saw myself represented in positions of power whether that was among the executive directors of these advocacy organizations or in actual Congressional seats. This summer truly helped to bridge the academic world at Brown to the real world discussions and changes happening today. I think I will always be figuring out what it is exactly that I want to do, but after this summer I know a little more about myself and how I can work to make the world a better place.