On Friday September 7, 2018, the Center for Latin American and Caribbean Studies at Brown launched its 2018-2019 Sawyer Seminar Series "Race and Indigeneity in the Americas" with a reception, art exhibit, and folkloric music showcase. Funded by the Andrew W. Mellon Foundation, the Sawyer Seminar Series will bring eclectic programming to campus this year with the goal of radically rethinking racialization in the Americas. In this vein, the kick off events invited participants to consider questions of race, indigeneity. and identity via the lenses of visual arts and music.
            The juried art exhibit "The Americas", invited visual artists from Brown and the larger Rhode Island community to submit pieces in photography, painting, and other mixed media that represented ideas about, experiences of, and cultural expressions from North and South America. The winning piece, Mirabilis jalapa,  by Brown undergraduate Kat Chavez, uses cochineal dye, muslin and yarn to explore "the various ways in which indigenous knowledges were exploited by Europeans". The second place piece, Endangered Mexican Orchid from the Brown Herbarium Laelia Furfuracea, Collected in 1894 by C. G. Pringle by Lyn Hayden, depicts a dried, rare orchid flower from a vast 19th century archive of Mexican plants. These pieces along with 14 other submissions are on display on the second floor of the Watson Institute through the end of the semester.
Following the reception and art exhibit inauguration at the Watson Institute, the Sawyer Seminar continued on the Ruth Simmons Quadrangle where Latin American folkloric ensembles from Brown and beyond offered musical performances showcasing the diverse music and dance ensembles from Brazil, Mexico, Peru, and the Caribbean, in particular the Dominican Republic.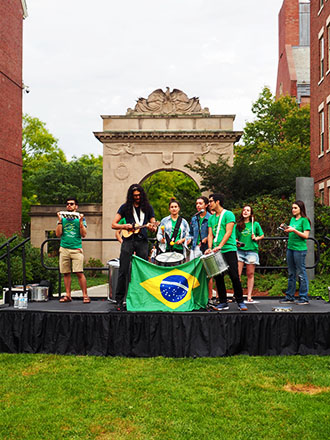 Brown's own Bloco da Brown opened the event, sharing styles of Afro-Brazilian percussion music popular in Brazilian carnival.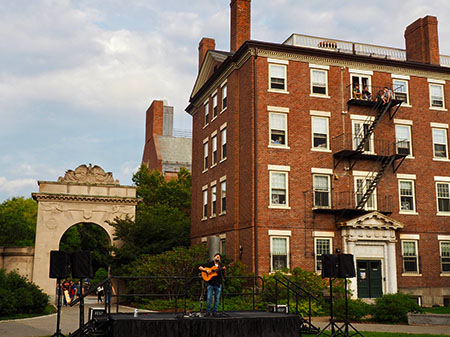 They were followed by Czésare Santana, a Latin Alternative Folk/World Music Singer/Songwriter. Using his piano or guitar, Czésare combines the musical richness of his Latin roots with the powerful message of his lyrics. Originally from the Dominican Republic, Czésare resides in Rhode Island and performs as a solo artist or with his band. As he played, some Brown students watched from their dorm room fire escape.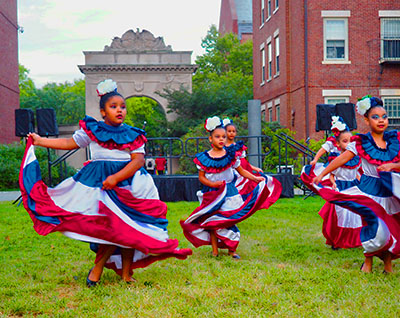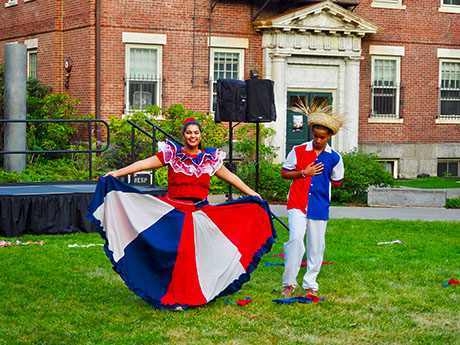 Dominican groups Quisqueya en Acción and Grupo Arco Iris wowed with dynamic performances of Caribbean dance traditions.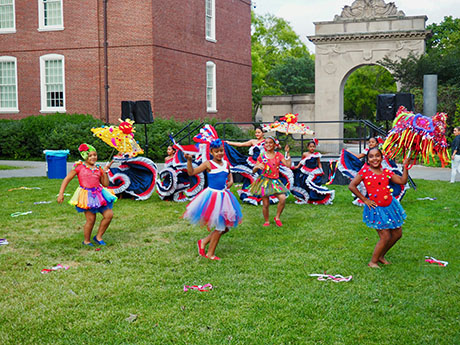 The Rhode Island Bolivian American Association offered a brief performance of Andean Caporales followed by a workshop that invited Brown students, faculty, and community to try their hands, or more accurately feet, at the vigorous steps.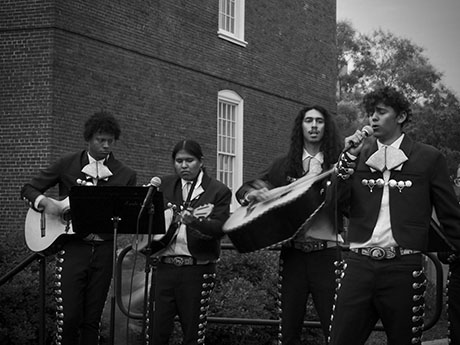 Finally, the event closed out with a performance by Brown's own Mariachi de Brown, who serenaded the public with renditions of Disney Pixar's Coco's Recuerdame and the ever popular Mariachi classic Cielito Lindo as the sun set.