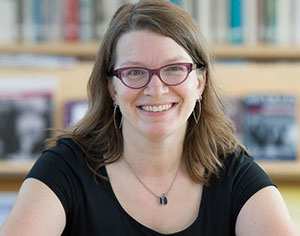 Jessaca Leinaweaver serves as CLACS Director and is a Professor of Anthropology. Jessaca is a cultural anthropologist who conducts research in Peru and the Peruvian diaspora. Her first book, The Circulation of Children (Duke University Press, 2008), based on research carried out in Ayacucho, Peru, examined informal child fostering in the urban Andes and its intersections with international adoption policies. Her second book, Adoptive Migration (Duke University Press, 2013), based on research carried out in Madrid, Spain, contrasted transnational adoption and family migration from Peru to Spain. She has also done collaborative research in Yauyos, Peru, with colleagues and students at the Pontifical Catholic University of Peru in Lima. Her current project is a study of aging, social responsibility, and demographic thinking in Peru, examining the marginalization of older, impoverished Latin Americans and the effectiveness of government proposals for improving their conditions.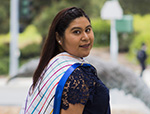 Daina Sanchez is the Mellon Sawyer Postdoctoral Research Associate at the Center for Latin American Studies. She received her MA and PhD in anthropology from the University of California, Irvine and her BA in Ethnic Studies and History from the University of San Diego. Her research lies at the intersection of race, migration, and indigenous studies. She conducted ethnographic research among Los Angeles-based youth with origins in the Zapotec community of San Andrés Solaga in Oaxaca, Mexico. Her research examines how young adults form and negotiate ethnic, community, and national identities away from their ancestral homeland. Her work has received funding from the National Science Foundation Graduate Research Fellowship Program and the National Science Foundation Doctoral Dissertation Research Improvement Grant.
Violet Cavicchi is a doctoral student at Brown in the department of Music, specializing in ethnomusicology. Her dissertation project investigates the workings of Andean music technoculture that links past and present, urban and rural, and people of varied ethnic, racial, and class positions. She focuses on personalized and communal uses of music in radio broadcasting, music video production, and home recordings of live performances of the bandurria, a string instrument from Cusco. She received her B.A. at Vassar College in Anthropology with a correlate in Music and Culture and wrote her senior thesis on mixing music as a means of cultural intermediation for Latin DJs in NYC.
Lauren E. Deal
 is a PhD candidate at Brown in the department of Anthropology specializing in linguistic and sociocultural anthropology. She received her BA in anthropology from the The George Washington University. Her dissertation research examines ideas of race, indigeneity, and identity in Buenos Aires, Argentina. Specifically, it examines how Argentines of European descent engage in projects of indigenous linguistic and cultural revival to consider the politics of appropriation and the meanings of whiteness in Latin America. She has previously conducted research in Buenos Aires on language and music in protest, and the language of Opera pedagogy.