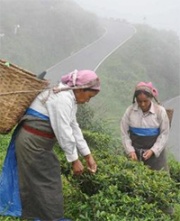 Sarah Besky Explores the Monoculture of Tea in 
the Dooars region of West Bengal
Assistant Professor of Anthropology and International and Public Affairs Sarah Besky is spending much of the academic year 2016-2017 working on research and writing in conjunction with collaborative project on "How Nature Works."  In September 2016, she will co-convene a seminar at the School for Advanced Research in Santa Fe, NM on the topic.  The seminar seeks to develop an anthropology of labor that is attuned and accountable to the potentially irreversible effects of climate change, extinction, and deforestation.  Since the Enlightenment, work has been framed as a uniquely human capability.  The realization of such a philosophy, however, has led to a marred planet saturated with human labor, one that is not so much "polluted" as it is "overworked."
Besky's contribution will ask how monoculture works; or more specifically, how does tea monoculture in the Dooars region of West Bengal work?   
When she came to the Dooars in late 2015, it appeared that a mass abandonment of plantations was underway.  Over the previous two decades, dozens of tea plantations in the region had closed.  The last couple of years had been particularly tumultuous, with the 2014 closure of sixteen plantations owned by Duncan Industries Limited, a company that was among the first to establish plantations in the region beginning in the 1870s.  Companies like Duncan's now claim that operating plantations has become too expensive.  Tea bushes are old.  They are overworked.  Initially, she began looking at plantation closures in the Dooars thinking that she might find alternatives to tea monoculture growing out of these capitalist ruins.  But instead, she found that plantations in the Dooars—and across India—are not that easy to abandon by either capital or labor.  This project, then, examines the capacity of monoculture to work, to resist and to persist, as well as how this work is facilitated by capital, the state, and marginalized Nepali and adivasi plantation workers.  
Read Besky's recent article published in the November 2017 issue of American Ethnologist, Fixity: On the Inheritance and Maintenance of Tea Plantation Houses in Darjeeling, India.