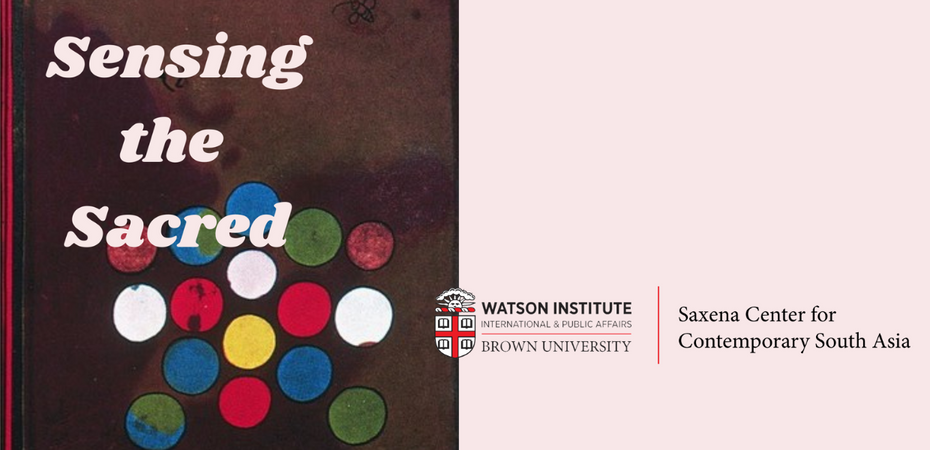 Welcome to Sensing the Sacred, a new podcast from the Saxena Center for Contemporary South Asia at the Watson Institute at Brown University. There's so much fascinating scholarship about South Asian religions across disciplines—religious studies, South Asian studies, contemplative studies, history, anthropology, critical theory, political science. With Sensing the Sacred, we aim to bridge these boundaries and bring you interdisciplinary conversations on a wide range of topics. I hope you'll join me, Finnian Gerety, as I talk to colleagues from around the world about Hindu nationalism, street shrines in India, stories of saints in Afghanistan, mantras and astrology in Jainism—just to name a few.  Subscribe now so that you can tune into our debut episodes, launching on all major platforms this spring (Spotify, Apple, Google, Breaker, RadioPublic).
First Episode: Religion and Hindu Nationalism (March 25, 2021)
In the past decade, India has seen the resurgence of Hindu nationalism, a political ideology of "Hindu-ness," expressed by the neo-Sanskrit term Hindutva. Hindutva envisions India—a country where Hindus are the majority in terms of numbers—as a rightfully Hindu nation; Hindu nationalists feel threatened by minority groups, especially India's Muslims. Riding this momentum is the current prime minister, Narendra Modi, who's fanned the flames of identity politics throughout his career and now governs with a Hindutva worldview, with policies that critics call anti-Muslim. To learn more, I sat down with Ashutosh Varshney, Sol Goldman Professor of International Studies and the Social Sciences and Professor of Political Science at Brown University, where he also directs the Saxena Center for Contemporary South Asia. With Indian elections underway—and in a moment when ethnic nationalisms are on the upswing around the world—I  wanted to talk with Ashu about how religion has contributed to this Hindu nationalist turn. (Spotify, Apple, Google, Breaker, RadioPublic)
Second Episode: Islam and Political Imagination in Early Modern Afghanistan (April 2, 2021)
The Mughal Empire was an Islamic dynasty that ruled much of South Asia from the 16th-19th centuries. It was one of the grandest empires the world has ever known. But the Mughals did not rely on military might alone to consolidate their rule. They also used works of literature—stories that evoked peoples, cultures, and far-flung landscapes. Through stories, regional factions competed for influence at the Mughal court—and sought to define themselves.  My guest today is Tanvir Aktar Ahmed, a doctoral candidate in the Department of Religious Studies at Brown University. Tanvir works at the intersection of Islam and politics in early modern Central Asia. He's currently finishing his dissertation,  "Radical Shadows of God: Islam and Sociopolitical Dissent, 1240-1600." We focus on a literary compendium from the Mughal era which narrates the often supernatural adventures of saints, power-brokers, and rebels: Ni'mat Allah Harawi's Afghan Treasury. (Spotify, Apple, Google, Breaker, RadioPublic)
Third Episode: Hindu Street Shrines (April 9, 2021)
If you've ever walked along city streets in India, chances are you've noticed Hindu street shrines. These are public spaces where people worship deities, saints, and spirits. Wayside shrines come in all shapes and sizes, from humble altars to full-on temples. You could think of them as crowd-sourced devotion: they seem to arise organically in response to the urban environment—at the base of a tree or near a busy intersection. The shrines usually house a sacred object, some incarnation of spiritual presence: a statue, an image, a stone. Going about their days, Hindus pause here to pray, reflect, and leave offerings of incense, flowers, money. But street shrines go beyond the religious: they're also foundations for community building, political activism, and informal economies. Indeed, according to Borayin Larios, Hindu street shrines express an "everyday defiant religiosity." Borayin is assistant professor of modern South Asian studies in the Department of South Asian, Tibetan, and Buddhist Studies at the University of Vienna. He's been doing ethnography for more than a decade in and around the state of Maharashtra. His research interests include popular devotion, material religion, and priestly education. (Spotify, Apple, Google, Breaker, RadioPublic)
Fourth Episode: Mantras, Healing, and Tantra in Jainism (April 16, 2021)
Some years before the Buddha lived, another renunciant teacher rose to prominence in ancient India. Known as Mahāvīra, "the great hero," he practiced the most difficult austerities. Preaching non-violence, he aimed to transcend his body and escape rebirth. When he finally reached liberation, he became known as the Jina—the victor. His followers, the Jains, worshipped Mahāvīra as the last in a series of enlightened teachers. Although its numbers are relatively small, Jainism remains a vibrant faith in India up to the present day—making it one of the oldest surviving religions in South Asia. On this episode, Finnian speaks with Ellen Gough, assistant professor in the Department of Religion at Emory University, about her work on Jain mantras and rituals. These are features that most scholarship on Jainism has neglected—or even considered alien to the tradition's ascetic roots. But Ellen's research puts Jainism in a new light, showing the importance of mantras, maṇḍalas, healing, and astrology. Her new book, soon to be published by the University of Chicago Press, is Making a Mantra:  Tantric Ritual and Renunciation on the Jain Path to Liberation. (Spotify, Apple, Google, Breaker, RadioPublic)
Fifth Episode: Yoga and Meditation Studies: Karen O'Brien Kop and Suzanne Newcombe (June 8, 2021)
What comes to mind when you hear the word "yoga"?  A sequence of postures, maybe; perhaps a seated meditation. But this Sanskrit word has a history going back millennia. Yoga has been—and continues to be—a label for many different doctrines and practices; a spiritual path claimed by Hindus, Buddhists, Jains, Muslims, Sikhs—not to mention other groups; and a potent symbol in religion, politics and culture around the world. Growing from roots in early Indian asceticism, Yoga today is a truly global phenomenon. At the same time, yoga's success has also fostered the rise of yoga and meditation studies as an academic discipline. Here, the tried and true methods of scholarship challenge the monolithic perception of yoga. Instead, yoga studies reveals the stunning diversity of yoga's past and present. On this episode, Finnian talks with Karen O'Brien Kop (University of Roehampton) and Suzanne Newcombe (Open University), two scholars working at the forefront of yoga and meditation studies. Their new edited volume, the Routledge Handbook of Yoga and Meditation Studies, is a watershed publication that reflects on key topics including decolonization, "classical yoga," scholar-practitioners, health, and politics. (Spotify, Apple, Google, Breaker, RadioPublic)
Sixth Episode: Sanskrit, Indo-Muslim History, and Twitter: Audrey Truschke (July 28, 2021)
Sanskrit is known as the classical language of India, especially Hindu traditions. But over its 3000 year history, Sanskrit was widely used in other Indian religions, as well.  And not only religions. Sanskrit was a lingua franca in Early India—a window onto cosmopolitain, literary, intellectual, and political cultures of the past. On this episode, Finnian talks with Audrey Truschke, a historian of South Asia at Rutgers University, who has made her name studying Sanskrit texts and Islamic power on the subcontinent. Her most recent book, "The Language of History: Sanskrit Narratives of Indo-Muslim Rule" (Columbia UP), presents a "history of Sanskrit views of a Muslim Other." For those on the far-right of identity politics in modern India, the very existence of such Sanskrit works about Muslims—not to mention Audrey Truschke's scholarship—comes as an affront. Hindu nationalists are deeply invested in the idea of a never-ending conflict between Hindus and Muslims. And they're not above distorting history or attacking historians to preserve their worldview. In this conversation, Audrey Truschke speaks about her work, her ideas about history, the importance of public scholarship—and why her research makes some folks on Twitter so angry. Learn more about Audrey Truschke and her new book here: https://www.audreytruschke.com/  (Spotify, Apple, Google, Breaker, RadioPublic)
Seventh Episode: Interpreting the Pew Report on Religion in India: Nehal Segal (November 2021)
Would it surprise you to learn that most people in contemporary India believe in god? That Śiva is the most popular Hindu deity? That while half of Indians meditate weekly, only a third have ever practiced yoga?  These are just a few of the findings of the Pew Research Center's report on religious life in India. Published this past summer, the Pew report is a major milestone in the study of South Asian religions. It represents the most extensive publicly available data ever collected on religion in Indian society—including the intersection with politics, caste, and identity. One of the report's big themes comes through in the title: "Religion in India: Tolerance and Segregation." Even as most Indians value religious diversity and share beliefs and practices across faiths, they nevertheless prefer to keep their communities separate—and they don't always feel they have much in common with each other. To learn more, I sat down with Neha Sahgal, the report's lead author and a specialist in international polling on religion. Sahgal is associate director of research at the Pew Research Center, a nonpartisan think tank that studies global trends and attitudes. In our conversation, Neha Sahgal made a compelling case for studying religion using survey research—and explained how quantitative data can shed light on even the most controversial aspects of Indian religions. To find out more about the Pew report, visit: https://www.pewforum.org/2021/06/29/religion-in-india-tolerance-and-segregation/
Eigth Episode: Alcohol in Early India: James McHugh (February 11, 2022)
When you think of alcoholic drinks in world history, you might think of French wine, Japanese sake, Russian vodka...What about India? Although it's not well represented in global histories of alcohol, in fact Indian history overflows with drinking cultures and a diverse array of alcoholic drinks. We learn about all this—and more—through the pioneering research of James McHugh, Professor of South Asian religions at the University of Southern California. His new book, An Unholy Brew: Alcohol in Indian History and Religions (Oxford University Press, 2021), is the first-ever academic monograph on alcohol in early India. But it's not just about alcohol, because drinking in India was rarely an end in itself: whether in rowdy festivals, sleepy taverns, or sophisticated salons, drinking was a social activity; drinks were meant to be consumed with friends and snacks in a convivial atmosphere. By analyzing texts in Sanskrit, Pali, and Prakrit, McHugh offers insights on the technology of ancient brewing, theories of alcohol and intoxication, and how drink relates to other substances: including betel nut, cannabis, and tobacco. In this interview, he gives us a small taste of this rich scholarship. So pour yourself a glass and settle in…
Ninth Episode: Grafted Arts in Colonial India: Holly Shaffer (December 9, 2022)
Histories of art in India never fail to mention the greatest hits: Mughal miniatures, Chola bronzes, the ruins of Hampi. Yet most artworks—not just in India but around the world—are not celebrated masterpieces like these; rather, many are blends and montages, mixtures of materials and methods, styles that can't be easily classified; made by artists who are anonymous or not widely known. Where's the history of these arts? A new monograph by Holly Shaffer, Assistant Professor of Art and Architecture at Brown University, shines a light on this theme in colonial India: it's called Grafted Arts: Art Making and Taking in the Struggle for Western India; 1760-1910 (Yale University Press 2022) This remarkable book looks at Maratha military rulers and British East India Company officials who used the arts to engage in diplomacy, wage war, compete for prestige, and generate devotion. Shaffer uses the idea of "graft" in the sense of grafting one plant to another, to produce something new; but also in the sense of cheating or corruption. She highlights the remarkable people and relationships that make up the grafted arts—unknown artists making works for hire, rulers using art for propaganda and prestige, patrons supporting and plundering artworks; officials making a profit through collecting—not to mention an unexpected cameo from William Blake! So we invite you to enter into a visual frame of mind and listen to this conversation. (Spotify, Apple, Google, Breaker, RadioPublic)


Inspiration for the podcast:
As the pandemic hit, I was planning a series of workshops on topics relevant to South Asian religions. The idea was to have incisive and intimate conversations with colleagues focusing on their latest work. When the world went into lockdown, my Saxena Center colleague Leela Gandhi suggested that I carry on the same project in a medium suited to remote living and learning—and so this podcast was born. Throughout the pandemic, I've been reaching out to colleagues, sitting down to talk virtually, and preparing our debut episodes. At times there's been a steep learning curve—it's one thing to listen to podcasts, but quite another to launch my own! But I've been helped along the way by amazing colleagues at the Saxena Center, Watson, Brown, and beyond. Sensing the Sacred has become my intellectual life raft, a way to stay afloat and inspired amidst the constant churning and isolation of the past year. Even as we contemplate a return to normal life in the months to come, my hope is that the podcast offers you a way to connect with new ideas and scholarship on South Asian religions. 
Finnian M.M. Gerety is a historian of Indian religions focusing on sound and mantra. After earning a PhD. in South Asian Studies from Harvard University, he was a Postdoctoral Fellow at the Yale University Institute of Sacred Music. Finnian is currently Visiting Assistant Professor of Religious Studies, the Contemplative Studies Program, and the Saxena Center for Contemporary South Asia at Brown University, where he teaches courses on mantra, yoga, ritual, and the senses. Integrating the study of premodern texts with insights from fieldwork in contemporary south India, Finnian's research explores how sound has shaped religious doctrines and practices on the subcontinent from the late Bronze Age up through today. His publications have appeared in Asian Ethnology, South Asian History and Culture, Bulletin of SOAS, and Journal of the American Oriental Society; a major new article on early Yoga is forthcoming from History of Religions. His current book project for Oxford University Press, This Whole World is OM: The Sacred Syllable in Early India, is the first-ever monograph on OM, the preeminent mantra and ubiquitous sacred syllable of Indian religions.