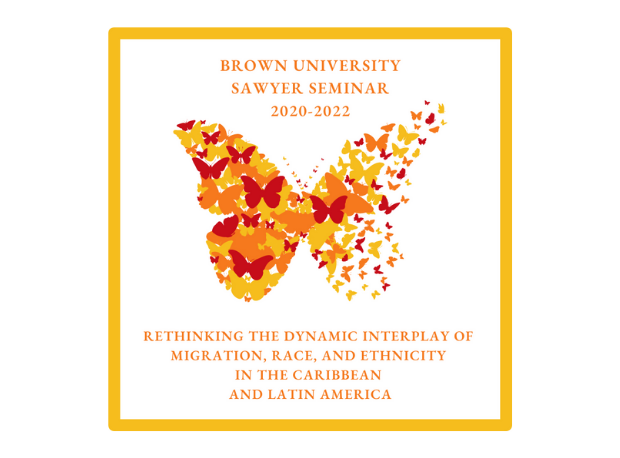 The Center for Latin American and Caribbean Studies, the Center of the Study of Slavery and Justice and the Africana Studies Department at Brown University have been awarded funding to develop the Mellon Sawyer Seminar, "Rethinking the Dynamic  Interplay of Migration, Race, and Ethnicity in the Caribbean and Latin America."
Together, these units are organizing a series of conferences, talks, exhibits, and performances at Brown University (in person and online) under the guidance of the Sawyer Seminar Team and Steering Committee. Our team includes CLACS Director Patsy Lewis, Africana Studies Professor Brian Meeks, and CSSJ Director Anthony Bogues, as well as CLACS Center Manager Kate Goldman, LACA Director of Undergraduate Studies Erica Durante, our Sawyer Postdoctoral Fellow Kristen Kolenz, and our Sawyer Graduate Proctors, Karyn De la Mota and Alexandria Miller.
The Mellon Sawyer Seminar programming began during the Fall 2021 semester with the following events:
This talk was offered on October 5, 2021 by talk  Mellon Sawyer Seminar Post-Doctoral Fellow Kristen Kolenz. A recording of the talk is available online.
This conference, which will be held on November 4 and 5, 2021, features scholars and activists exploring the dynamics of race, ethnicity in migration in the Americas. Full details are posted on the conference webpage.
This event, which will be held on November 4, features three performances by emerging Latin American artists: Frontera Bugalú, Danger AK (Instagram), and Laura Guevara (Instagram). The content is available on Watson's YouTube channel. 
Be sure to come back often for updates and announcements about new and upcoming events!