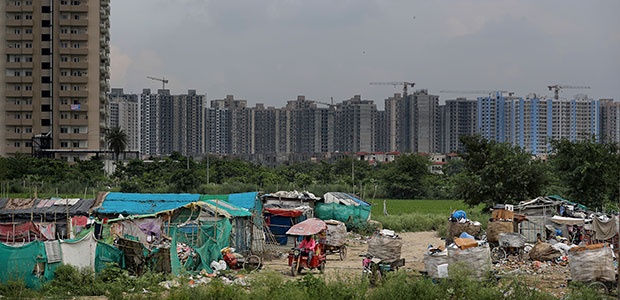 Seeing the State: Unpacking the challenge of state capacity and development
A BIARI co-sponsored by Brown University and the Centre for Policy Research
This BIARI workshop will focus on the challenge of state capacity in India today. It will explore the theme through a lectures that explore the challenge of state capacity through multiple frames including: bureaucracy and administrative reforms (at the elite and frontline); federal structures (specifically local governments); core welfare functions and emerging challenges - urbanisation and climate change/energy and building regulatory institutions. An important aspect of this BIARI will be to bring together the Watson Institute Global Partners to explore the challenge of state capacity through different country experiences. The objective will be to place on going debates in India within a comparative perspective, draw lessons and most crucially explore collaborative research projects aimed at deepening current understandings of the challenge of state capacity. An important objective of the BIARI workshop is to encourage a wider set of researchers to study the state and through this contribute to the (currently thin) body of empirical knowledge of how the Indian state works. To this end, BIARI will also include a methods workshop on how to study the state, particularly at the frontline. 
---
Conveners
Yamini Aiyar
Yamini Aiyar is the President and Chief Executive of CPR. Her research interests are in the field of social policy and development. In 2008, Yamini founded the Accountability Initiative at CPR. Under her leadership, the Accountability Initiative has produced significant research in the areas of governance, state capacity and social policy. It pioneered a new approach to tracking public expenditures for social policy programs and is widely recognised for running the country's largest expenditure-tracking survey in elementary education. Yamini's own research on social accountability, elementary education, decentralisation and administrative reforms has received both academic and popular recognition. Yamini Aiyar is a TED fellow and a founding member of the International Experts Panel of the Open Government Partnership. She has also been a member of the World Economic Forum's global council on good governance. Previously, she has worked with the World Bank's Water and Sanitation Program and Rural Development unit in Delhi, where she focused on action research aimed at strengthening mechanisms for citizen engagement in local government. Additionally, she was a member of the decentralisation team at the World Bank that provided policy support to strengthen Panchayati Raj (local governance) in India. 
---
Patrick Heller
Patrick Heller is the Lyn Crost Professor of Social Sciences and professor of Sociology and International Studies. He is the director of the development research program at the Watson Institute of International Studies and Public Affairs. His main area of research is the comparative study of social inequality and democratic deepening. He is the author of The Labor of Development: Workers in the Transformation of Capitalism in Kerala, India (Cornell 1999) and co-author of Social Democracy and the Global Periphery (Cambridge 2006), Bootstrapping Democracy: Transforming Local Governance and Civil Society in Brazil (Stanford 2011) and most recently, Deliberation and Development: Rethinking the Role of Voice and Collective Action in Unequal Societies. He has published articles on urbanization, comparative democracy, social movements, development policy, civil society and state transformation. His most recent project, Cities of Delhi, conducted in collaboration with the Centre for Policy Research, explores the dynamics of governance and social exclusion in India's capital.
---
Mekhala Krishnamurthy
Mekhala Krishnamurthy is a Senior Visiting Fellow at CPR and Associate Professor of Sociology and Anthropology at Ashoka University. Over the last fifteen years, her research, publications, policy and professional engagements have involved work within and across a range of field sites and subjects, including women's courts and dispute resolution, community health workers and public health systems, agriculture and agricultural markets, and land, water and livelihood security. This has placed her in a variety of roles at the intersections of and in partnerships between academia, public policy, government, the private sector, and grassroots civil society organisations. Her longstanding area of research interest and commitment, which she is currently pursuing in a number of field-based and writing projects, involves understanding the institutional dynamics and everyday life of the state, market and economy in contemporary India. At CPR, she is engaged in building up a new initiative on state capacity. She is also a Non-Resident Visiting Scholar at the Center for the Advanced Study of India (CASI) at the University of Pennsylvania.