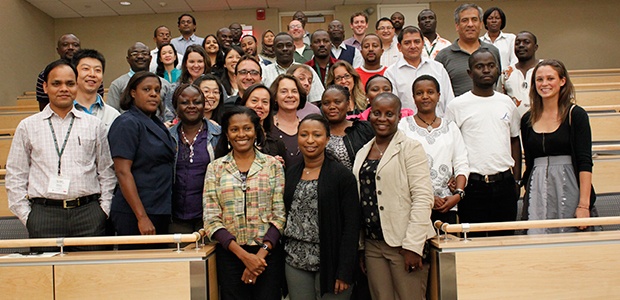 The Institute focused on current knowledge regarding global HIV/AIDS epidemiology, pathogenesis, prevention and treatment as well as innovative research in these areas. Emphasis was given to a team approach to the global burden of HIV/AIDS, health inequities, sex/ gender related issues, socio-behavioral dimensions, the economics of HIV access to care and the individual and population-level impact of antiretroviral therapy. The Institute also explored the changing nature of the epidemic in both resource-rich and poor countries.
---
Conveners
Professor of Obstetrics & Gynecology and Professor of Medicine and Professor of Health Services, Policy & Practice at Brown University.
Dr. Cu-Uvin's research focuses on Human Immunideficiency Virus (HIV) in women primarily in understanding the effect of antiretroviral therapy on HIV shedding in the female genital tract.
Assistant Professor (Research) of Behavioral and Social Sciences at Brown University.
Dr. Harrison's current research focuses on adolescents and the transition to adulthood in the context of HIV/AIDS in southern Africa.
Assistant Professor of Epidemiology at Brown University.
Mark Lurie, PhD, is an infectious disease epidemiologist working on HIV/AIDS, sexually transmitted infections and tuberculosis in sub-Saharan Africa.