Wednesday, December 2, 2015
12:00pm – 1:30pm
Joukowsky Forum, Watson Institute, 111 Thayer St. Providence, RI 02906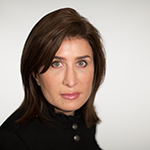 Bessma Momani is an associate professor at the University of Waterloo and Balsillie School of International Affairs. She is also a Senior Fellow at the Centre for International Governance and Innovation and 2015 Fellow at the Pierre Elliot Trudeau Foundation. She has been Non-Resident Senior Fellow at the Brookings Institution in Washington, D.C., a visiting scholar at Georgetown University's Mortara Center and at the Amman Institute in Jordan.
She has authored and co-edited over six books and over 60 scholarly, peer reviewed journal articles and book chapters that have examined the IMF, the World Bank, petrodollars, regional trade agreements in the Middle East and economic liberalization throughout the Arab Gulf and the Middle East.
Abstract:
Bessma Momani's An Arab Dawn: Arab Youth and the Demographic Dividend They Can Bring is a book that moves away from the generic over-emphasis on the geopolitical volatility and instability of the region, to provide a fresh perspective of the future of the Middle East and North Africa. It focuses on the potential of the Arab Youth in making great strides towards a more prosperous region. An Arab Dawn offers critical insights into the future and potential of the youth living in the MENA region. Drawing upon important indicators of prosperity, such as economic growth, employment, education, democracy and political participation, freedom, and social identity, this book provides a glance into the changing nature of the Arab region – one that is eager for a bright and prosperous future. Central to this change, as this book demonstrates, is the role of the Arab youth in carving out, for themselves and the region, a new identity that is founded upon a transnational and global approach towards the future.
Comprised of numerous interviews, surveys, and other studies conducted with young people in the region, An Arab Dawn provides a much-needed voice to a generation of budding Arabs. Given its methodology and focus, this book provides a unique supplement to the qualitative and quantitative analyses conducted by think tanks and policy institutes focusing on the Middle East and North Africa. The book, as a whole, provides a fresh perspective and a coherent narrative that contextualizes the changes taking place in the Arab region and draws conclusions based on the attitudes, behaviours, and above all, the determination of a demographic that will ultimately redefine the economic, political, and social realities of the region.