The Arab Comics: 90 Years of Visual Popular Culture exhibit and accompanying symposium on February 26, have been featured on various media outlets. The exhibit will be open until March 15.
Broken Frontier, a major comic book website, spoke to Nadim and Mona Damluji, who co-curated and co-organized the exhibition and symposium. You may read the full article here.
"For the symposium we wanted to select participants who unpack the social, cultural, and political worlds that inform, surround, challenge, and support the production of comics in Arab countries", Mona says. "As a result, we included scholars, artists, editors and lovers of comics in the conversation. Half of our participants are coming from Beirut — a hub for independent comics in the region today, where trilingual writing has subverted any assumptions about what Arab comics are about. Ultimately, we hope that the exhibit and symposium together will show that in fact there is not any one way to describe or characterize 'Arab Comics'".
The National, an English-based news publication based in the UAE, also featured the exhibit. Read more here.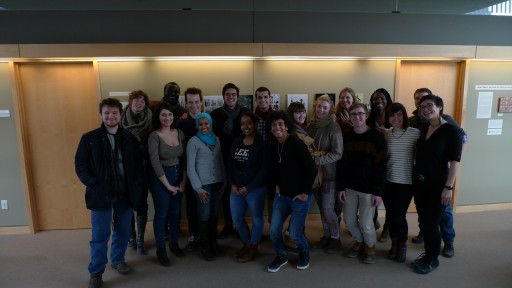 On Friday February 20, around 25 students from Wheaton College came to the Watson Institute to visit the exhibition. Adrian Jennings and Audrey Spina shared their thoughts:
"It was interesting to be exposed to a diverse spectrum of Arab comics: not just Arabic translations of Western comics, but also Arabic children's comics introducing complex and difficult issues such as the Israeli occupation of Palestine to children, as well as more contemporary comics for adult audiences."
— Adrian Jennings, Wheaton College (class of 2018)
"What did I expect of this exhibition? I thought they would be more political cartoons and it was very refreshing to see comics centered around children and also to see hallmark figures like Superman and Mickey."
— Audrey Spina, Wheaton College (class of 2017)