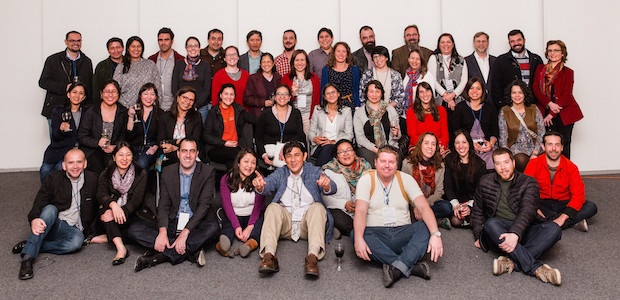 BIARI Mexico was the first foreign-language BIARI program
The first Brown International Advanced Research Institutes (BIARI) program that was held in a foreign language, BIARI Mexico was also only the second program held outside of the United States. After the first such BIARI – held in Spain in January 2016, albeit in English – proved successful, the idea for BIARI Mexico took hold, conducted in Spanish and Portuguese and held at the prestigious El Colegio de México, in Mexico City, from Jan. 9-13. 
"A foreign language BIARI is a big deal" says Matthew Gutmann, director of BIARI, a collaborative program led by the Watson Institute and Brown University, with funding from Santander Universities.  "It shows that great scholarship is occurring in other languages… Brown and BIARI need to be there … to help create opportunities and forums for people to gather and network and develop new projects that will address global challenges."
Conveners for BIARI Mexico, which focused on Migration in the Americas, were Brown University Professor and Director of the Department of Sociology David Lindstrom, also an associate of Brown's Center for Population and Training Studies; President of El Colegio de México Silvia Giorguli, who earned her doctorate in sociology from Brown University; and Jéssica Nájera, a professor and researcher at the Colegio de México's Center for Demographic, Urban and Environmental Studies. In addition, several leading academicians from universities around the Americas, including from Brown and Princeton Universities and the University of Pennsylvania, mentored BIARI participants and gave presentations.
Thirty-five young scholars from several Latin American countries were challenged to consider these topics, among others: What are the theoretical-methodological approaches to studying migration in Latin America and the Caribbean? What instruments are available in the region to study migration? How do migratory patterns respond to social, economic, political and environmental contexts?
Migration in Latin America is more than that of Mexicans immigrating to the United States; movement is happening on a wide-scale basis: Central Americans to Mexico, Haitians to Brazil; Andeans to Argentina and some 2 million Colombians have been displaced by war, noted Gutmann. "Migration has always been a part of the continent in a large way. It's an opportunity to discuss politics and demography and social responses to the policies that have emerged in the United States and in other countries."
As is the goal at every BIARI, BIARI Mexico succeeded in creating new networks of scholars who formulated collaborative research topics and ideas for edited volumes, says Gutmann. "BIARI is the starting point [for such collaborations] for … these rising stars in their respective fields in their universities."
Given then-President-elect Donald Trump's fiery rhetoric against Mexican immigration to the United States, the topic couldn't have been more timely. Although many BIARI scholars could not believe that Trump, who speaks so disparagingly of immigrants, was elected president, they were resolute in their determination to defend immigrants' rights and help those in need, regardless of what anti-immigrant policies emerge from the Trump administration, Gutmann says. 
Coincidentally, BIARI Mexico participants met a group of college students who had gathered at the university. These students, who were brought as undocumented children to the United States by their parents, are subject to DACA, the Deferred Action for Childhood Arrivals. Meeting and talking with them, says Gutmann, "added fuel to the fire, and made the immigration debate all the more relevant. It brought to life that these human beings have dedicated themselves to [studying] and becoming good citizens, [yet] their lives are being threatened." 
BIARI beyond Brown is a highly competitive and selective program offering week-long sessions in diverse international venues; the next BIARI beyond Brown will be in Nairobi next January. 
–      Nancy Kirsch