Undergraduate Research Travel
Olivia Hinch '20 (International Relations)

Olivia Hinch '20 is a concentrator in international relations with a focus on the Middle East and North Africa. Her senior honors thesis, entitled "Women's Participation in Revolutionary Moments: Gender and Class in Tunisia, 2011," seeks to understand the marginalization of gender-based struggle in times of radical political transformation. With the CMES Research Travel Award, Olivia will spend two weeks in Tunisia conducting interviews with women's rights activists, members of the Tunisian General Labor Union, and other women who participated in the 2011 Tunisian Revolution. Olivia's findings will explore mechanisms for women's participation in revolutionary moments today, such as in Lebanon, Sudan, and Iraq.
Zenab Youssef '20 (Middle East studies)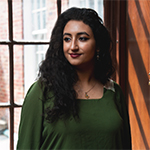 Zenab Youssef '20 is a concentrator in Middle East studies and gender and sexuality studies. Her thesis investigates intersectional diasporic Muslim subjectivities in the West. Her research analyzes the struggles of Muslim diaspora through contemporary literature, online visibility projects, and photography. With this award, she will be visiting newfound spaces and communities where historically marginalized Muslims reclaim their faith, are allowed to foster their spiritual life, and opportunities for joy and bonding across identity markers occur. 
Graduate Research Travel
Martin Uildriks (Archaeology and the Ancient World) 

Martin Uildriks ('21) is a fifth year PhD candidate at the Joukowsky Institute for Archaeology and the Ancient World and a third year computer science master student through Brown's Open Graduate Education program. His PhD dissertation examines the utility of archival data for contemporary scholarship; the CMES Travel Award allows him to study an unpublished archaeological archive of a 6,000 year old Egyptian cemetery at the Museum of Fine Arts in Boston. This archive formed in the early 20th century and remains fairly intact whereby it provides rare and unique opportunities to evaluate early 20th century scholarship against current ideas on ancient Egypt.
---
Previous recipients
Fall 2014 MES Research Travel Award Recipients
Spring 2015 MES Research Travel Award Recipients
Spring 2016 MES Research Travel Award Recipients
Spring 2017 MES Research Travel Award Recipients
Spring 2018 MES Research Travel Award Recipients
Fall 2018 MES Research Travel Award Recipients
Spring 2019 MES Research Travel Award Recipients
---
About Middle East Studies Research Travel Awards
Up to $1,000 for Middle East studies undergraduate concentrators
Up to $1,500 for Middle East studies graduate students
Priority is given to undergraduate students concentrating in Middle East studies using the funds towards research for the senior Capstone or Honors Thesis
Students in concentrations other than Middle East studies but with Middle East-related research will be considered 
Graduate applicant support is based on travel focused specifically on conducting research for their dissertations
Travel is not limited to the Middle East. However, applicants must be conducting research on the Middle East 
More information on Middle East Studies Research Travel Awards